Mission Statement
Two Bits Media of Kansas City

[c]2006 by Richard L Zorek
Kansas City is a remarkable place. And for the thousands of people who live here–it is a great place to live and to grow. Kansas City has much to offer with a rich variety of music, movies, culture, traditions, families, sights, entertainment……….not to forget its rich history. The surrounding areas of Kansas and Missouri also have much to offer: Farmland, blue skies, lakes, rivers, cities large and small, entertainment, hiking trails, fishing, sights, historic battlefields and monuments, historic towns of the west, railroads, highways and super highways, and that barely touches what is out there.
We also have rolling hills and valleys……..though nothing like the valley of dry bones mentioned in Ezekiel. I have tried reading those verses and trying to imagine a place so dry, but being in the midwest all of my life, the closest I can sum up might be the badlands of South Dakota on a very hot August day.
An accurate "state of our state" forces us to look at our life together as a people. And that means, seeing the bones, seeing the death, and what they portray about our life together as a community. The Ezekiel text is after all, about a people. It is about a community. It is a striking image of deterioration, of desolation and of utter lifelessness.
Kansas City and surrounding areas have many valleys…and many of which are full of dry bones…they represent valleys full of suffering and lifelessness. And indeed, as Ezekiel describes, they are very dry! They lie there, brittle, and they shatter when they are walked upon. The dry bones are, of course, symbols of death.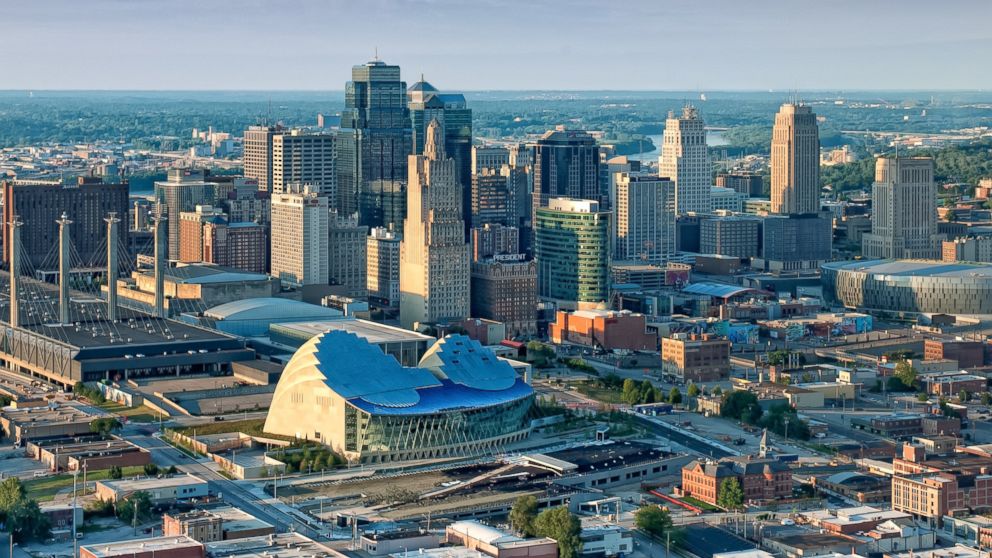 And the contemporary forces of greed and violence suck the life from us, crush the life around us, and often repress the life within us. The valley of the dry bones exists here in Kansas City.
And if you don't believe it, ask the living……or the barely living…
· ask those who suffer at the hands of a regressive system of taxation
· ask those kids whose education is diminished because of a lack of quality education;
· ask those who live below the poverty line;
· ask those who are hungry;
– ask those who are homeless;
· ask those who are considered senior citizens and trying to survive.
· ask those without jobs
· ask those who work in jobs that do not pay a wage high enough to support a family;
· ask those who have little or nothing in savings;
· ask those no health insurance;
· ask those no prescription drug coverage.
-ask those who are ill and need medication and have no health insurance or prescription coverage.
-ask those who loses his home to an money making project eith eminent domain.
-those who made a mistake and find no forgiveness.
"Those" all have a face behind them. A face we have seen on our streets, in our congregation, in our child's school, or living next door. And more often than not, these faces become victims because of deliberate institutional, systemic, policy backed practices. And often at the hand of a tyrannical government—from whatever source that "government" may come.
Public policies can create terrifying havoc on individuals in our community. These people, who struggle for life at levels we can all understand, can testify about the valley of the very, very dry bones in which we all live.
Our State is full of neighbors who are pushed to the margins, who have no political voice and whose lives are emptied by the forces of grinding poverty. The dry, dry bones are the bones of our neighbors. They are our bones. There are many bones. And they are very dry!
So as we work in Kansas City today, remeber we are called to live as a people of the God who offers us His faithful presence. God is with us. God offers us the SPIRIT to bring life to the valley. And He offers us widom to speak "life" into the very dry bones.
Most of use reading this live in this valley – and the Spirit of the God in who we have faith, is asking us to become advocates. God is asking us, calling on us, to advocate so that those who suffer might stand – so that life might come to the dry, dry bones. Sometimes, all it takes is a word–a word which will bring life.
But I will admit, like Ezekiel, I am tempted to ask; "Can these bones live?" especially when we drive down I-35 and see the homeless seeking refuge together to keep warm,
or when I discovered the numbers of people who are sick, and now without any hope of recovery becaue they ar uninsured–and people do die for lack of health care.
When we see report after report through the media of a killing or a murder or some other senseless death…
And then, when we look at the lack of moral vision and the callousness towards the vulnerable in our State, we are tempted to ask;
"Can these bones live?" The task seems impossible.
Just like Ezekiel, in desperation or hopelessness or fear, we are tempted to answer; "O My God…Only You Know For Sure… You Tell Us!" Can we ever get health care for every resident? "O My God…Only You Know For Sure… You Tell Us!" Can we ever get quality education of every resident? "O My God…Only You Know For Sure… You Tell Us!" Can we ever get the state to provide a safety net for those who are caught in situations of poverty and unemployment? "O My God…Only You Know For Sure… You Tell Us!" Can we bring relief to those in inadequate housing, or under the heavy hand of slumlords and tyrannical landlords? "O My God…Only You Know For Sure… You Tell Us!"
Ezekiel's answer, "O My God…Only You Know For Sure… You Tell Us" is a response which maybe we will hear soon from our leaders and our State Legislature. OR maybe not.
It is a response that reveals openness to new insights, new wisdom. It is a response that straddles knowledge of the reality of the valley of dry bones and yet contains some hope and expectation of radical change. Our leaders often seem more concern dabout being re-elected than serving those who elect.
Just like Ezekiel, we wait now, to see what God will do with us – To see what God will do through us. And it is in all liklihood that it is thruugh us that God wil do GHis work. There's no claiming "I didnt know." If you read this far….you now know. When we do hear the noisy rattling of bones coming together….and will we see life?
We see a valley full of misplaced moral values – security, stability, dominance, pursuit of self-interest, prosperity, self-reliance, and pursuit of profit. We see a valley where we fear our neighbors, where the love between the brothers and the sisters is hard to find, where the toleration for inequity, disparity of wealth and poverty escalates to the unimaginable.
The God who tells Ezekiel to prophesy to the dry bones is … · A nurturing God · A God of empathy · A God of love, justice, inclusion and stewardship. · A god who reminds us that we can measure the moral character of our city and state by how well we care for the least among its people – and bring life to the valley of dry bones. · A God who calls us all to examine our 'priorities of government'.
And this God calls us, like Ezekiel, to bring LIFE to the dry bones in our valleys. We are called to prophesy in a daunting political moment. The vision of our friends on the religious and political right and left have waged an unrelenting war to take over State governments , and battle each other just for the sake of power……….and at the expense of our quality of life.
In the valley of dry bones, even with sinews, flesh and skin – there is no life!! Because there was no breath. Then the Spirit said to Ezejkiel, "Prophesy to the breath, prophesy mortal, And say to the breath "Thus says the Lord God, come from the four winds, O breath, and breathe upon these slain, that they may live."
So here is the vision: . Life enters into the people who were made otherwise whole in the valley of the bones – the SPIRIT, the breath came into them, and they lived, and they stood on their feet – all of them. What a powerful image. The SPIRIT came upon the valley of dry bones and something new came to the valley. And something new can come to Kansas City and its people.
It is time state legislators think of themselves as part of, & accountable to, a broad ambitious, technically savvy & policy-smart movement. LIFE for the valley of the dry bones is a Gift of God for the people of God AND IT IS ALSO OUR STRUGGLE. The winds of change can be the winds of life to all in the valley!
Two Bits Media of Kansas City is not affiliated with any political, religious, unreligious, economic, or business group. Sales through "Two Bits Media Collectibles" helps aid these efforts, but it does not have "nonprofit" status.
The rich man's wealth is his strong city, the destruction of the poor is his poverty"…Proverbs 10:15 on stream box